Description
RARE Unwashed Poppy Seed
100% ORGANIC

|

VIABLE

|

UNTREATED

|

UNWASHED
Papaver Somniferum Seed
VERY Rare |

White Seed

|

Variety

: Album – "

Ikkanshu

"
The Purity of this Strain is of the utmost quality and quite RARE. These WHITE SEEDS are the hardest to find of the Somniferum Variety. They are a bit Sweeter tasting than the Blue/Gray Poppy Seeds because of their Higher Oil Content
THE SEEDS YOU WILL RECEIVE WERE HARVESTED FROM THE SAME PLANTS SHOWN IN OUR PHOTOS & VIDEOS!
(which is what you can expect your end result to look like when planted, given, they are cared for properly)
---
Below is one of our 'Papaver Setigerum' Flowers which is the Strain from which ALL 'Somniferum' Poppies derive from – and is also used in the Development & Research of the 'Ikkanshu' Poppy Genetic Study seen HERE
Papaver Setigerum Poppy Seeds are IN STOCK
---
Freshly Harvested for this grow season!
This 'White-Seeded" Japanese Variety has PURE WHITE Colored Petals and OBLONG Pods. They Grow to about 3 ft. to over SIX FEET tall. The yield and quality is very nice. and have NOT been cross-pollinated. 
THESE are NOT "China White" (which grow much shorter and have ROUND Pods) Not to mention, China White Poppies aren't even an "Official" Scientific Variety (meaning, there's NO recorded Documentation by the scientific Community recognizing them).
---
---
Here is a photo of Ikkanshu Poppies Growing in Japanese Lab

:
(NOTE: This Image is HOSTED by Rakuten™ as shown here:
 https://image.space.rakuten.co.jp/lg01/44/0000547844/28/imge389999ezik3zj.jpeg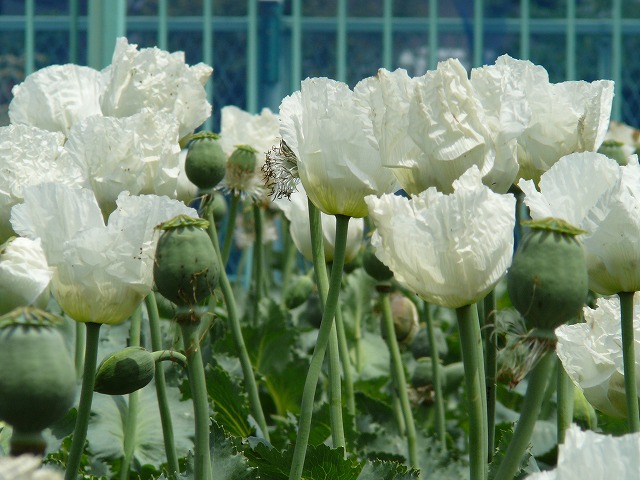 (We have NO ACCESS to their Servers and did NOT Upload this image ourselves. As shown, the poppies are PURE White. Anyone with experience growing Poppies know that ALL WHITE FOWERS produce WHITE SEEDS, and NOT Blue/Grey Seeds)
FEEL FREE to DO YOUR own RESEARCH!!

 
Understand the Difference Between Ikkanshu Hybrids (which are your standard, Blue/Grey Seeds)…
And THESE Seeds, which are a NON-Hybrid (a Rare, White seed Variety)
WE HAVE PROVIDED SOME RESEARCH LINKS FOR YOU IN THIS LISTING.
---
---
IMPORTANT NOTICE:
PLEASE BE SURE TO WASH SEEDS PRIOR TO CONSUMPTION, AS THEIR MAY BE SIGNIFICANT TRACES OF PLANT MATERIAL (pieces of dried seed pod), SINCE MANY OF THESE SEEDS WERE HARVESTED FROM MULTIPLE STEMS, SOME of the NATURAL "Vent Holes" were NOT OPEN all the way. Which prevented the SEED TO POUR OUT NATURALLY, THEREFORE, WE HAD TO BREAK OPEN SOME PODS IN ORDER TO ACCESS THEIR SEED.
This goes for ALL our Poppy seeds, as they are ALL Untreated and Unwashed
The reason we don't wash them is to avoid Re-Germination, clumping, and Molding
---
---
The powers of the poppy have been known since at least 3400 B.C., when the Sumerians called it 'Hul Gil', the 'flower of joy.' It has also been variously called the Sacred Anchor Of Life, Milk Of Paradise, the Hand Of God, and Destroyer Of Grief.